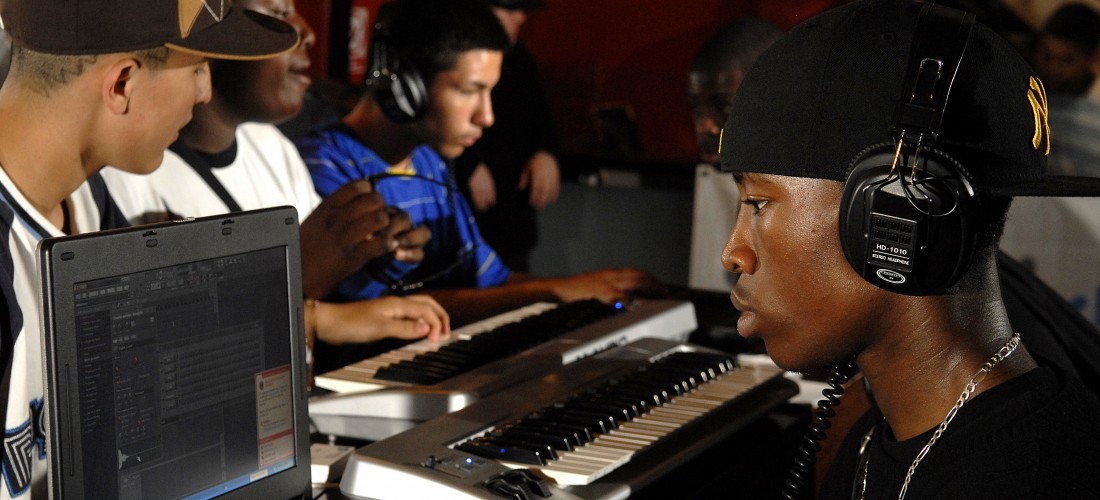 Established in 2005 as an open college and training provider for the capital, all training is able to embed accredited outputs if so desired and is typically delivered on location with a top professional for your chosen subject area.
Having successfully engaged and trained a broad demographic of participants from across the UK we are expertly positioned to support and further aid all to gain qualifications, industry knowledge and action plan careers pathways for the future.
For more information and a full detailed list of our courses, accreditation options, training models click through related posts below.
WHY GO WITH US?
Highly experienced trainers for hard to engage demographics
10 years experience as successful social entrepreneurs
We only employ specialist trainers that are able to work with NEET learners who challenge gang culture and anti social behaviour using a non conflict environment for learning
All trainers have first hand relevant musical or enterprise experience to pass on and support others to build their own career path
Already produced number 1 charting artists and regularly worked with musical superstars – Route 94, Toxic TV, Paul Oakenfold, Wretch 32, Tinchy Stryder and more
Our approach uses music industry focused training and practices, NOT just music technology software training. We deliver so much more than just the standard music software training, our music training is always delivered and reinforced with digestible and relevant examples that go further for the learner and break through any learning difficulty barriers
Our networks of contacts, organisations and special guests used in our delivery model are all carefully selected, hand picked and scrutinised to ensure we have paramount positive role models with quantifiable careers and proven business examples to relay our training principles and practice further.
All musical participants receive music industry standard mixdowns and masters of their own work as part of the programme carried out using our high end professional music mixing & mastering suite.
All work completed is carefully created and edited with participants to enable all their content to be used and viewed positively to enable both service users & purchasers to promote all work completed using social media sites.
We guarantee that all music or businesses created will comply with local authority good practice principles for available and promotional media.
Participants have the chance to learn new skill sets using a junior apprentice style format with training.All who attend have the opportunity to take on specific roles and jobs within a music studio, that are then developed and absorbed 'hands on', to enable all to work in an applied training model gaining experience to make a quantifiable impact for future employers.
All training is developed and made malleable based on experience – We guarantee no sitting in class and doing the same old training over and over again. Especially if you have completed training previously. Great for hard to engage and 1 to 1 learners.
Personal action planning for careers and the music industry is offered week to week to keep participants motivated and engaged to achieve their true potential.
Our careers advice is always tailored to the participant's true skill set, they are not just sold aimless hopes of a career as a musician and fully explore their potential and the multitude of careers options available based on their own potential and natural strengths.
If you would like further information please download our latest .pdf
 For more information and a full detailed list of our courses, accreditation options, training models and a full list of our training services please click HERE.
Work with one of Goldseal's highly experienced training & enterprise professionals, for a combination of music technology & enterprise subject areas today