OK, so just to let you know what has happened over the years, 2004 we finish building the studio and open some local community workshops for young people from Hammersmith & Fulham and Kensington & Chelsea to check out our new facilities.
The workshops were a huge success and we begin working with London's largest homeless charity St Mungos. DJing and music production goes down a huge success and more workshops spiral from here now reaching 5 other st mungos sites.
 
We register as an independent college and open as an AQA unit award scheme centre developing specific units to cover Reason, FL studio, Akai's mpc and djing units supported by Stanton.
There is a huge uptake from local youth offending team in Kensington and Chelsea with help from top UK music producer Skillioso. Word spreads fast and we begin working with Southwark, Ealing, Hammersmith & Fulham and Westminster as well.
Our reputation for being people's people grows and we begin work with The Complete Works in East London's famous Brick Lane at the Truman Brewery Site and we are also invited to host the Music Industry Manual stand at Music industry trade shows Plasaand London Calling.
Our day-to-day training workshops go from strength to strength and our top achievers gain a range of qualifications with some great statistics generated, especially for our young offenders. We are proud to boast that 66.7% of participants that work with us and the Gold Seal Programme dont reoffend and 75% of those, remain in full time education. We are so proud!
We begin helping Southwark Youth Offending Service to install a portable music studio solution at their offices in south London and start an annual programme for support and training with a huge uptake for referrals. Some ground breaking workshops continue again that promote exploring and learning new skills with music, identifying transferrable skill sets and challenging anti social behaviour, gun and knife crime and facilitating change for positive life styles.
Top UK DJ – One Samurai and Jump Off host Ben Scarrs join the team to deliver workshops. See below Samurai with UK urban act Sway at Childrens trust NCH workshop in west Drayton.
Our undercover act 3 Face comes into the limelight, with regular radio play on Radio 1 and other top UK radio stations. In return 3 face starts to help out more, supporting with day to day workshops for some of our top students, covering songwriting skills and first hand industry advice for new talent to help promote self worth, belief and demonstrable role models for our self investing social enterprise model.
Work with our homeless client base continues to spread and we begin working with a Kings Cross Provider – Singles Homeless Project. DJing workshops are a huge success there and more positive work spreads from this.
DJing specialists Stanton help us purchase and install an mp3 DJing package for Hackney's Catch 22 Haggerston Youth Inclusion Project. Top DJing tutor One Samurai helps with the open day and legendary Grime DJ, Kiss 100′s Logan Sama comes down to help close the 24 lesson course.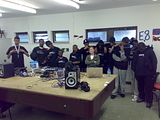 We have a mega busy Summer, with lots of training and support services/workshops also featuring at the south London connexions open day, hosted at none other than top London Club Minstry of Sound!
The Gold Seal project stand features Grime producer and Hoodstars CEO - Werewolf who is there to engage and start helping all that enter the iconic upstairs VIP DJ suite with some expert FL Studio software music production. The stand is by far the most attended stand of the day from a wide range of providers and mass interest for Gold Seal services within the borough begins to flourish.
We are also invited to Hammersmith & Fulham's Urban Arena, held at the Linford Chistie stadium where young Hoodstars MC Nightmare/Nitro joins us to help give some music skills back to his local community. The stand is heavily attended with over 2000 participants present on the day and the Gold Seal stand stays in action all day, from the second we finished installing our stand. A huge success for all again and the word of the Gold Seal Gospel spreads once again.
October 2007 saw one of our top recording studio clients and upcoming UK urban acts Wretch 32 & Bashy support Gold Seal in community based outreach work. Both Wretch 32 and Bashy helped open Richmond Adolescent Resource Team's youth focused Strathmore Centre music studio. Gold Seal supported and advised on all of the new media suite fit for young people aged 11-19 and the facility is available to any young person from across the London Borough of Richmond.
November approaches and Wretch 32 returns once again to continue to help the younger generation. He is on hand to help create a frenzy and increase awareness of the new facilities and also open the new music suite at Kensington & Chelsea's youth centre and support site Rugby Portobello Trust. We are massive fans of Wretch 32 and his incredible humble attitude and willingness to support grass roots musicians.
Christmas is upon us and for the 2nd year in succession, the stats for our work with young offenders remains at 66.7% for those who don't re-offend and again 75% of those stay in full time education.
The start of a new year in 2008 and Gold Seal begin working with Haggerston Youth Inclusion Project again, this time delivering some music technology courses that help young people to learn about making some tracks of their own and recording some vocals.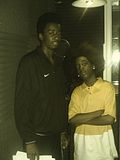 We progress into march and the project begins to conclude the work with specialised education centre in Kensington & Chelsea – St Marks DPU. Gold Seal successfully engage their young people and issue qualifications to some young people that have never engaged in any form of education since the age of 10. Sadly we loose a participant who tragically passed away in a car accident. Our thoughts and condolences remain with his friends and family and may he rest in peace.
 
We also begin working with Holborn Community Centre helping young people increase their leisure activities during half term activities.
The summer period beckons again and courses begin again with Richmond's Adolescent Resource Team at the Strathmore centre.
The course holds a wealth of new talent and welcomes the old talent in an open mic session to get the ball rolling again. Soon to be music superstar Rowan Jones aka Route 94 is present and contributes a range of skills and vocals to keep all engaged.
New courses funded by Positive Activities for Young People are put in place to help young people involved in crime and poor living conditions begin new opportunities at Kensington & Chelsea's Rugby Portobello Trust. 9 of the most motivated and dedicated students went on to achieve 3 different units in music production and recording vocals.
As summer 2008 calls, Haggerson Youth Inclusion Project are set to begin some more DJing workshops again and Gold Seal bring down top UK 1xtra R&B DJ DJ B, to help set the standard and offer question and answer sessions for the boroughs budding young DJ's.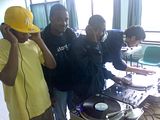 As autumn 2008 is upon us, Gold Seal send top grime acts Jammer and Bless Beats to perform for the Strathmore Centre, as part of their celebrations for Black History Month. Workshops continue to spring up left right and centre and we are proud of the work that we do to help make a difference to those who need it.